Friday, May 06, 2005
Pillow that is being given to my English teacher who is now Principle at the Junior High School, I went to and my kids now attend.

Thursday, May 05, 2005
This was a piece that was done to complete a Christmas auction. I offered to stitch a piece for the winner of my entry to the Christmas auction to provide christmas gifts for a group and its families. This was the piece that the winner of the auction requested to be stitched.

This is called In the arms of an angel by Lavender and Lace. This is an important piece for me. As it was my first big piece, but also it was being stitched on while visiting my father in the hospital. He passed away and I then finished it..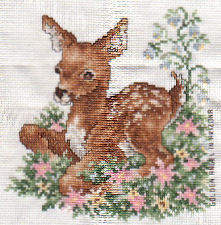 This was done as a Christmas surprise for stitching friends daughter. She had been given a quilt that was stitched by her mom and lost it in the Florida hurricanes. We wanted to return the favor to her mom by stitching a quilt and giving it to her for Christmas to replace the lost one.